Editor's note: This story was written by Katelyn Keller.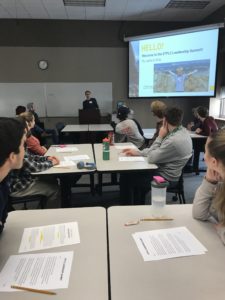 The STPLC Leadership Summit was held by Kris Shepard on Nov. 9, with the aim of encouraging student leaders at Saint Mary's. This summit was Shepard's final project for the capstone of his leadership minor.
The summit touched on what leadership is, why it matters, and why we students matter as
servant leaders. While Shepard spoke at certain times throughout, the summit mostly consisted of active discussions, reflection questions about the importance of leadership and its application in both daily and extraordinary events in life, and activities that applied leadership skills.
The summit was designed to help develop student leaders who listen to one another and strengthen the community. Above all, in Shepard's words, it was meant "to instill within the leaders a desire to do more as a student" and give them "support, encouragement, and resources to do something amazing in their time at Saint Mary's."
Although answers to certain questions or games were "not at all" the expected direction at times, he said that this was "okay, in fact, perfect." As he put it, "leadership is different for each person," so how one goes about developing or implementing it is unique for each person. He said, "I can't tell anyone how to lead– that's impossible and won't work for 99% of the people there. I can, however, show people why we need them to lead, and I do think my summit did that effectively."
First-year William Sepsis said that the summit brought in a different perspective to leadership than he had thought of before. It also inspired him, "especially because it was from a fellow student."
Sophomore elementary education major Bridgette Hegarty said that the summit was "a meaningful and engaging experience." It made her think about the connection between leadership and education, saying that we don't often label teachers as leaders, but that "there is power in viewing" them this way.
Meanwhile, junior psychology major and criminal justice and leadership minor Sarah Hardy found the summit "a great way to engage the Saint Mary's community" about the topic of leadership. She said, "Kris did a great job of creating a summit that wasn't just lecture-based, but interactive." Hardy's favorite activity was discussing something to be transformed or improved on campus, finding it "inspiring to hear other students' ideas" and making her realize that many students should come together to help implement change. Her biggest takeaway was, in her words, "leaders aren't always the person in front. Everyone has the potential to be a leader in their own unique way."
The participants' excitement and leadership inspired Shepard, who said, "To be able to hear everyone's voice was really powerful." He learned much from their "brilliant ideas and intriguing stories."
This event was developed as Shepard's "personal-best leadership project" for COM 475, Saint Mary's leadership minor capstone. The project is intended to be a summary of the student's developed knowledge base about leadership.
As Shepard noted, a capstone for a minor is very uncommon, but he believes that it is worth it. The leadership minor has been, in his words, "incredibly significant in [his] development not only as a student, but also as a student leader." He feels that it is both humbling and cool to be a part of the first ever leadership capstone class at St. Mary's.
Preparation was "far more challenging" than Shepard had expected. He said that despite the hours in the library, researching for two months, he felt as though the more he learned about leadership, the more he realized "there is so much to leadership that is impossible to define or pinpoint."
Although he felt way over his head at points, his fellow capstone classmates played a major role in supporting his project. He said that "the seven other amazing leaders in the class… had the greatest impact on the development of the project." He finds this "amazing, too, if you think about how important it is to have others who can help you as a leader."
Using his classmates' advice and teaming up with Saint Mary's Sts. Teresa and Peter Leadership Club, Shepard ultimately aimed to encourage students to display leadership in their everyday lives, "whether that be through empowering, serving, or being an example for others in our community." He believes that if we try making leadership "something grander than ourselves, we won't be able to implement it into our daily lives; however, if we choose to act as leaders in the little moments, the impact and transformation of our community would be astounding."
Shepard intends to stay at Saint Mary's for a year after graduation to pursue his M.A. in education through the 4+1 program that Saint Mary's offers. His goal is to be a high school English teacher, though he would not be surprised if he found himself teaching an introductory leadership class one day to high school students. Either way, he believes that "leadership is applicable in any field of study" and expects to use both present and future skills throughout the rest of his life.
For more information about the leadership minor, feel free to contact Dr. Scott Sorvaag at ssorvaag@smumn.edu or Dr. Lori Charron at lcharron@smumn.edu. They are major advocates for the addition of a leadership major to the St. Mary's catalogue.